When you turn on the news you may feel like giving up, but what if you simply UP your GIVING instead?
Every day, when watching the news, reading the newspaper, or scrolling your Twitter feed, you are bombarded with an obscene number of hard-hitting headlines. Understandably, you cannot avoid feeling overwhelmed, pessimistic, and powerless. But in these challenging times that make everybody want to give up, why not focus on GIVING!
In Brussels alone, the support of our volunteers and donors helps us to make a REAL difference in the lives of more than 7,000 vulnerable people, who may not be able to see some of their most essential needs met without this support. Just imagine that if every time you had read one of those sad pieces of news this month you had given €1 to a cause fighting to solve that issue? What difference do you think you could have made? None, you say? The answer is ALL. With only €1 you could have treated one of our beneficiaries to a full meal! Yes, you are reading correctly: one FULL meal, including a hot dish and a fresh piece of fruit.
€ 1 = 1  meal

€ 30 = 30 meals (A FULL MONTH!)
Do you still think that a small contribution of €1 a month would not have any impact? Now think how much 10€ once a month for a year could do! You will be helping us provide a full meal to 120 PEOPLE!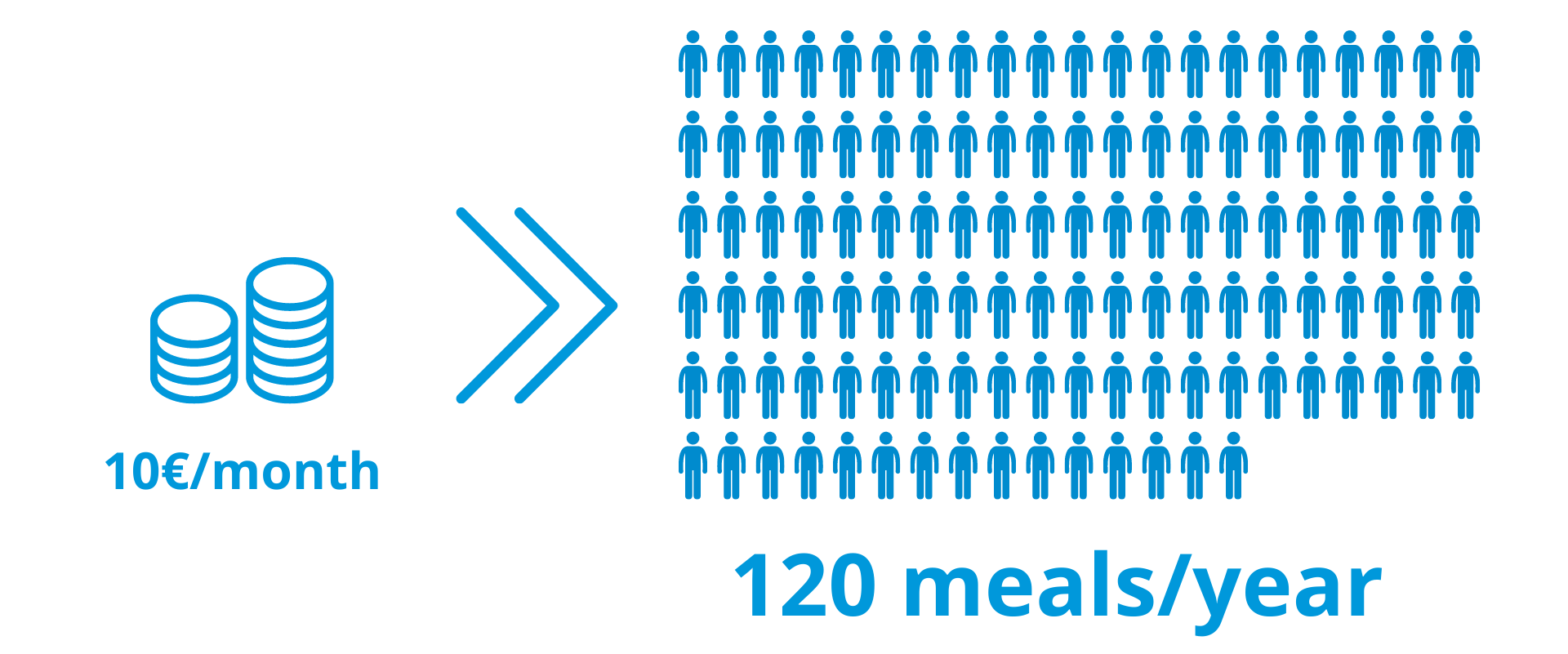 While it might not make a big difference in your daily life, a monthly donation can have a huge impact on our work and determines the capacity that we have to help those who need it the most in our city. Because with €10 a month you can decide the future of a project, and as a result, all its beneficiaries. Because with €10 a month for a year you can help us offer 120 full meals, or 1.200 breakfast waffles, or tickets for 6 asylum-seeking children to visit an attraction and enjoy one of their best days in Belgium.
Because many people doing small things together make a BIG difference!
You give, you get back!
Serve the City is a non-profit organisation recognised by the Belgian government. So, if you pay taxes in Belgium, you are eligible for a tax deduction of 45% of your donations during the year.
What does this mean? Well, if you donate €10 per month since January to December, you will donate a total of €120. At the beginning of the following year, we will send your information to the Ministry of Finances proving that you have donated €120 to us, and they will give you €54 back!