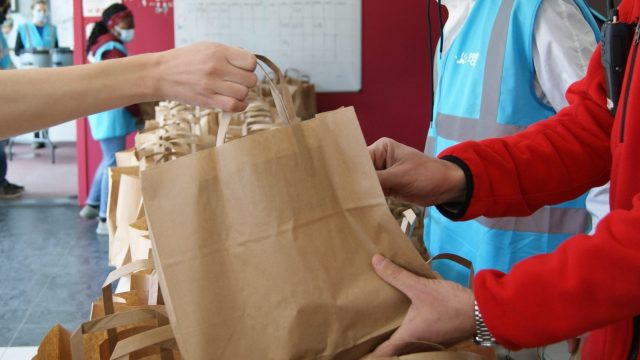 When
Monday
11:30 - 14:00
Tuesday
11:30 - 14:00
Wednesday
11:30 - 13:30
Thursday
11:30 - 13:30
Saturday
11:30 - 14:00
Sunday
11:30 - 14:00
Where
94 Avenue du Port, 1000 Bruxelles.
Every day, hundreds of people, including refugees, transmigrants, and homeless people, come to the Red Cross Centre PSA, near Tours & Taxi for a hot meal and drink. Volunteers are needed to assist with the lunch distribution of food, hot drinks and snacks every Monday and Tuesday from 11:30 to 14:00 and Wednesday and Thursday from 11:30 to 13:30 and Saturday and Sunday from 11:30 to 14:00. Join our team and help us bring comfort and hope to our friends from across the globe who are looking for a place to call home.
New volunteers: make your way into the centre on the left of the entrance (by the black gate) and head towards the back where you will enter a warehouse. There, a project leader, wearing a blue Serve the City vest, will brief you and explain what exactly you will be doing throughout the shift. If you are coming by bike you can bring it into the centre for safekeeping.
Wednesday and Thursday are managed by our partner Cuistots Solidaires.
Food outreach