Many can agree that our future lies in the hands of tiny human beings; the children of our society. They are our successors, revolutionaries, our little miracles in a big, bad world.
This is a story full of hope; a story of a girl with an extraordinary wish. It begins with an idea, a desire, an urge, for the need  to give back to the community where 9 year-old Morgane is from.
For her birthday, Morgane had one wish: to serve those in need. With the help of social media, her plan was to make a video, asking friends, family, her mom's coworkers to donate anything they could which would help her in achieving the birthday wish; to make a difference in someone's life. To Morgane's surprise, a lot of people joined in on what was a 9 year old girl's aim, and donated items piled up, occupying an entire room. As the planning went on, Morgane and her family chose "La Phare" to provide with food, love, and kindness. One of the targets was not just to serve as a volunteer, but to learn their names, and their stories as well.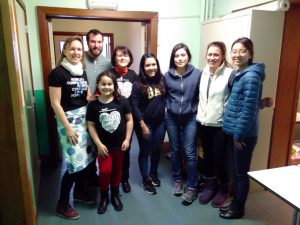 We can all learn something from a girl who not only empathizes with the difficulties the refugees, the homeless, or anyone in need has, but she also participated in trying to plan an eventful evening to show people that they are not alone.
We are inspired by people who take action; people who are not looking past the struggles, rather they are participating to help with food, clothing, paperwork, and most of all, hope. We would like to thank Morgane for her compassion, courage, respect, humility, love and ability to spread kindness without boundaries.
-Elizabet Torosyan, March 2017