This week marks just over a thousand days since I've been involved in the Breakfast for Refugees (B4R) project with Serve the City, and what a whirlwind it has been! Countless incredible volunteers, resilient and ever-positive refugees and migrants, and a whole lot of spilled coffee have made these past few years an amazing experience. With that in mind, I'd like to take a trip down memory lane, a little look to the future, and share my experience with this project. But first, let me tell you what we do.
The project
The Breakfast4Refugees project takes place on Monday and Tuesday mornings between 06:30 and 08:00 at Park Maximillien and the Pacheco Centre. A team of volunteers meets in these two locations, rain or shine, to distribute hot drinks and food and to offer support and conversations to refugees and migrants. A smaller team also prepares the drinks and food at the Serve the City office and cave from 6am the morning of the breakfast and the weekend prior.
Year One – The Year of Spilled Coffee
I don't really remember my first time at B4R. I don't think anything very dramatic happened, and I was probably too busy flustering around cutting bread into reasonable slices (i.e. not door stoppers). But in those early days, we served a big queue of people who were claiming asylum at the office just next to Parc Maximilien. We used to trawl around bakeries the night before, collecting up unsold bread (with mixed success) and buying the odd pot of cream cheese from the supermarket. It was also a time when we hadn't quite got the hang of loading the van right, so many a morning was spent mopping up spilled coffee from the floor of the van. Hiccups aside, we had great conversations with the people queuing up to claim asylum, a great mix of volunteers, and bread of varying levels of freshness.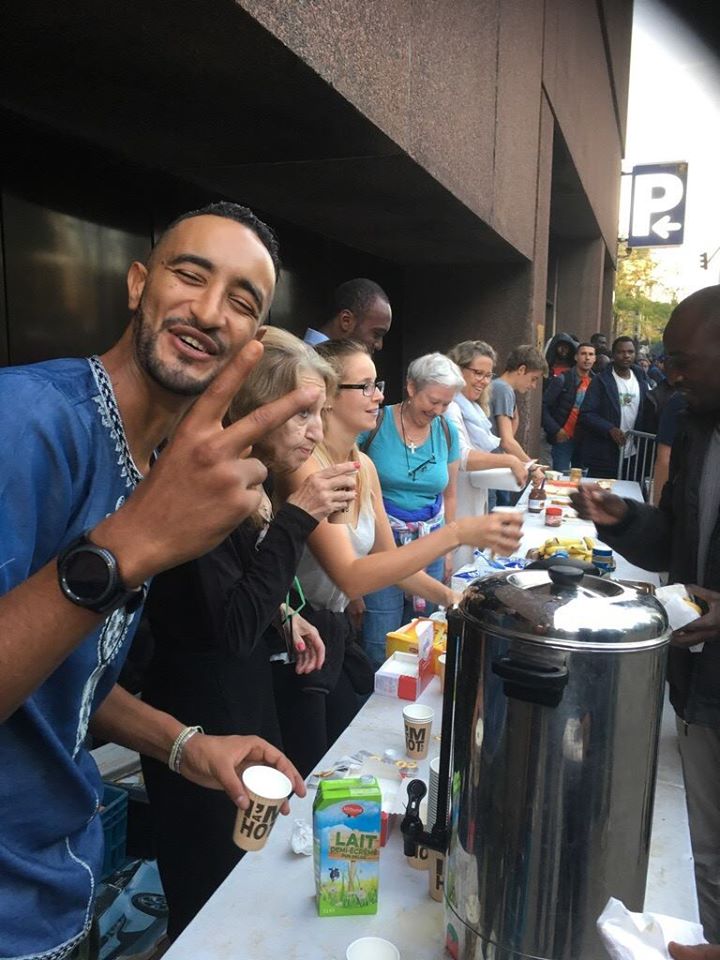 Year Two – The Year of 'All Hands on Deck'
The second year that I spent working with B4R was crazy. It was hectic, stressful, sad, but ultimately so rewarding (I'm still here after all). During this year more migrants started to settle in the Parc next to where we were serving our breakfast. Numbers quickly shot up and we were serving around 400 people each morning. There was a bit of pushing and shoving, but ultimately this increased our need for help, and motivated more volunteers to come, and in time our team grew massively.
The most memorable moment of this year was unfortunately not a happy one. One morning, the police came to our breakfast and started to arrest some of the people we were serving. This really shook us up. However, the eagerness of our volunteers to help really shone through on this day.
The year continued with rising numbers of people to serve, and the addition of a kids' table at breakfast benefited the children a lot, as they could do some drawing and take a break from standing in line.

Year Three – The Year of Morning Lie-Ins (Sort Of)
This year was also hectic, as we changed our location numerous times (Parc Maximilien, Gare du Nord, Pacheco, and Petit Chateau), but ultimately, we ended up back where we started. Thanks to an increase in support for the project, we were able to start a second day of serving, and even added a second location. It was also the year of the morning 'lie-in'. We figured out that putting timers on our coffee pots meant that we didn't have to go to the office an hour ahead of breakfast (shout out to David), which meant that we got an extra hour in bed. Seems small but every second counts when you have to get up at 5:30am!
This year our number of volunteers increased again. We now have 50 volunteers, which is incredible. In this year I met a particular person that we serve who has now become one of our regulars. His name is Joseph and he has been sleeping in the park for almost a year. He is from Ethiopia and has just been diagnosed with diabetes. Rain, snow, or shine, he is always there at breakfast: helping us to clean up, carry trays and bread, and even guiding the van out of its parking space.
Year Four – The Year of 'Let's See'
The number of people in need have continued to grow after a lull late last year, with around 200 a day being served at the moment. However, it is unclear how the situation will progress. When I look back over the past thousand days, I can see how much the project has progressed, thanks to the support of our volunteers and to the donations we receive. But I can also see how we have impacted the people we have offered a hot cup of coffee and a chat to, and how in reverse their conversations and interactions have impacted our volunteers. So, a huge thanks also has to go to our breakfast customers.
Written by Lucinda Pearson
Breakfast4Refugees takes place on Monday and Tuesday mornings, rain or shine. You can find more about the project here. And to have a more in-depth experience of Breakfast4Refugees and know why we do it, be sure to listen to the episode 5 (part 1 of 2) of the Serving Stories Podcast on your favourite podcast platform. And if you like it, subscribe and rate it.