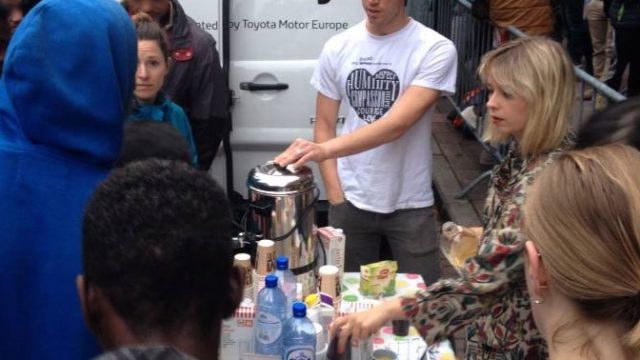 When
Monday
12:00 - 14:00
Tuesday
12:00 - 14:00
Wednesday
12:00 - 14:00 (with Les Cuistots Solidaires)
Thursday
12:00 - 14:00 (with Les Cuistots Solidaires)
Saturday
12:00 - 14:00
Contact
For more information, register for an info session.
Our team serves snacks and warm drinks at the Red Cross Center to migrants and asylum seekers every Monday, Tuesday and Saturday at lunch time from 12:00-14:00, rain (or snow) or shine. Join our team and help us bring hope and comfort to those on a journey to seek asylum further afield, or hoping to be able to call Belgium home.
Please note that on Wednesday & Thursday, the organization Les Cuistots Solidaires is in charge. Come along and lend a hand to this dynamic team at the Red Cross Center.
Food outreach