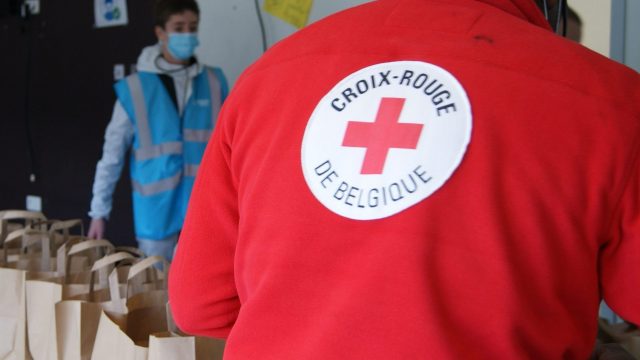 When
Monday
11:00-14:00 / 17:30-20:00
Tuesday
11:00-14:00 / 17:30-20:00
Wednesday
11:00-14:00 / 17:30-20:00
Thursday
11:00-14:00 / 17:30-20:00
Friday
11:00-14:00 / 17:30-20:00
Saturday
11:00-14:00 / 14:00 -17:30 / 17:30-20:00
Sunday
11:00-14:00 / 14:00 -17:30 / 17:30-20:00
Where
94 Avenue du Port, 1000 Bruxelles.
In September 2020, the Red Cross opened a new centre for homeless people, transmigrants and asylum seekers.
The centre is divided into two parts: the Food Distribution Centre which is run in collaboration with other nonprofits, and the Day Centre.
The Food Distribution Centre: Every day of the week, the centre welcomes 400 people for both lunch and dinner. The food distribution itself  is managed by other organisations (see our Lunch4Refugee project), but the Red Cross needs volunteers to give them additional logistical support: managing the queues, supervising the canteen and cleaning tables. There are two shifts every day: 11:30-14:00 and/or 17:30 -20:00.
The Day Centre: The Day Centre opened in December 2020 to provide those in need with a warm place to shelter at during the day, where they can relax, take a shower and have a coffee. This centre can welcome up to 150 people a day, and is open every day of the week from 13:00 to 17:30.
The Red Cross needs volunteers to help them with logistical support: managing the showers, coffee distribution and supervision of the centre in general.
Join our team and help us bring hope and comfort to those who may one day call Belgium their new home! 
Interested? Register directly for a volunteering shift on our NEW Serve the City app, 'ServeNow',  available on both AppStore and PlayStore.

Food outreach